"Journal" Titan Wristlet
Wristlet Archives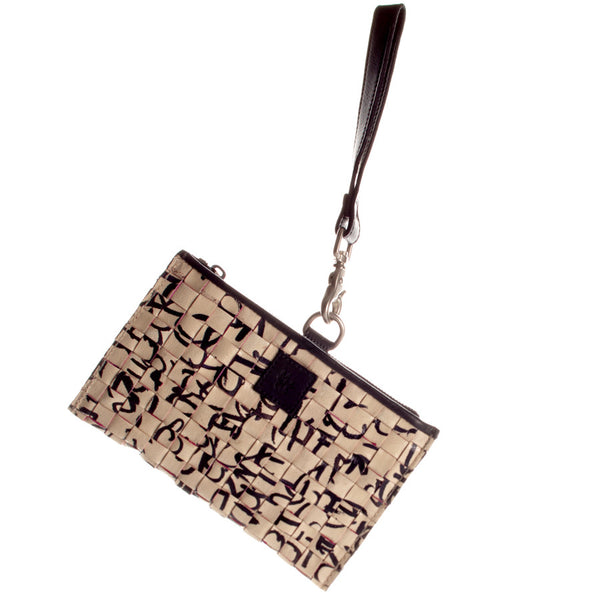 "Journal" Titan Wristlet
Wristlet Archives
The "Journal Titan" vintage wristlet is a one of a kind, original artwork on woven leather wristlet. Constructed of beautifully handwoven strips of cream-color painted leather with black letter fragments, with one internal pocket and a top zipper closure. This wristlet holds all your essentials and leaves your hands free. Unique hand-painted wristlet: Where Art meets Fashion.
Details: 
- H 5" x W 8"
- ¾" black leather wrist strap
- Fuschia suede lining
OUR PROCESS
Every Marla bag begins as a painting, an original acrylic by artist Andrea Tobin. But before the artwork is dispersed into the flaps and panels that create your one-of-a-kind bag, it's covered with an industrial varnish that preserves the vibrancy and luster of the artwork and also renders it resistant to water, stains, and UV rays.

The painting is then parceled and stitched in one of the few remaining manufacturers in New York City's storied Garment District, in a family-run factory that's been producing fine leather handbags for nearly 40 years. Each Marla bag is lined with supple suede, trimmed with buttery Italian leather, and named and numbered by the artist. Protected from the elements, your Marla bag will soften over time as it molds to your lifestyle.